Welcome to the Fieldcode Manual
Tip: Start typing in the input box for immediate search results.
What is ticket live tracking? (=Customer Portal)
Copy the URL link to this section to share
Fieldcode gives end customers the option to track tickets and the ticket progress.
Live tracking is beneficial for end users, that want to be informed about the ticket progress.
End users are able to track open tickets via the browser or the FIC App. Live tracking of a ticket allows end users to understand in which status a ticket is and where the engineer/technician is currently located, so that end users are aware of the service delivery window.
Live tracking can be enabled for end users inside the Fieldcode admin panel -> Automated Actions -> Preconfigured Automated Actions

You can decide between two options there:
Both options will activate the live tracking functionality, however, if you choose the second option, end users will also be able to change appointments via Customer Portal.
After the Live tracking is activated inside the Fieldcode admin panel end users will receive an email with the Live tracking link available when tickets for them are opened.
Dispatchers need to create tickets correctly, otherwise automations for the Customer Portal may not trigger
Dispatchers always need to fill in the correct end user email address in the ticket creation form, otherwise the automated action may not trigger correctly.
If a ticket is created with the activated Live tracking Feature the end user will get an email with the working Live tracking link. Then it is his decision if he wants to open the Live tracking in web browser or use the Fieldcode information center app to track the ticket progress.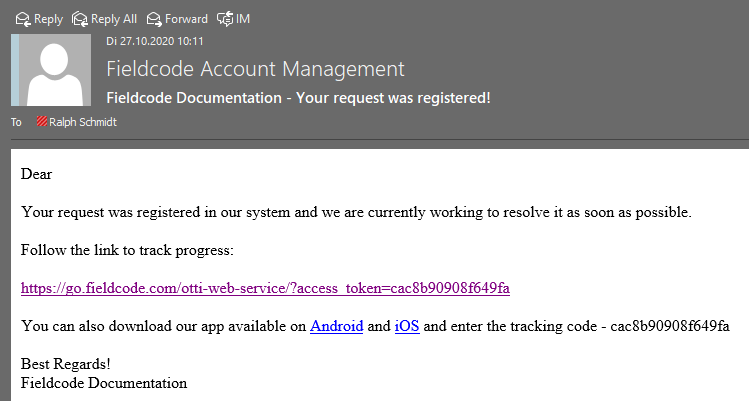 How to activate live tracking via Customer Portal for end users
Copy the URL link to this section to share
Please check out the following topics:
How can end users track their ticket progress?
Copy the URL link to this section to share