Category filters can help you narrow down search results
What is the Customer Portal?
Copy the URL link to this section to share
This application is devised for end users that have a ticket request via the Fieldcode system.
Fieldcode gives end users the easy option to track tickets and the ticket progress. Inside the Customer Portal end users can also book and change appointments (if configured that way) and administrators can also customize the whole Customer Portal experience for Field Service ticket requestors/end users.
The Customer Portal delights administrators and end users in different ways:
Administrators have the flexibility to configure and customize the Customer Portal experience to business needs

End users have the option to easily track the ticket progress, and if enabled, book and change appointments
End users can track open tickets via the browser. Live tracking of a ticket allows ticket requestors to understand which status a ticket currently is and where the engineer/technician is currently located. This helps ticket requestors to be aware of the upcoming service delivery window. Depending on the business configuration end users will be also able to book and change appointments on their own. However, the Customer Portal can be also just used to only allow tracking the ticket progress without the allowance to change appointments.
The functionality has to be configured first via Automated Actions inside Fieldcode Admin Panel, otherwise, end users will not receive the tracking link to the Customer Portal.

You have a ticket that is being resolved via Fieldcode?
End customers that want to track the ticket progress might be particularly interested in the "Best practices" sections of the Customer Portal.
Learn more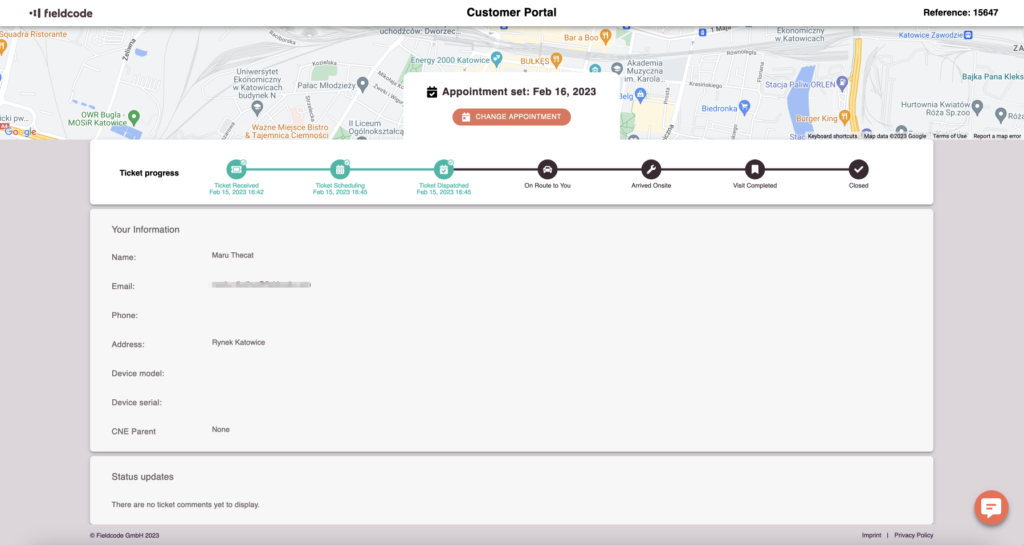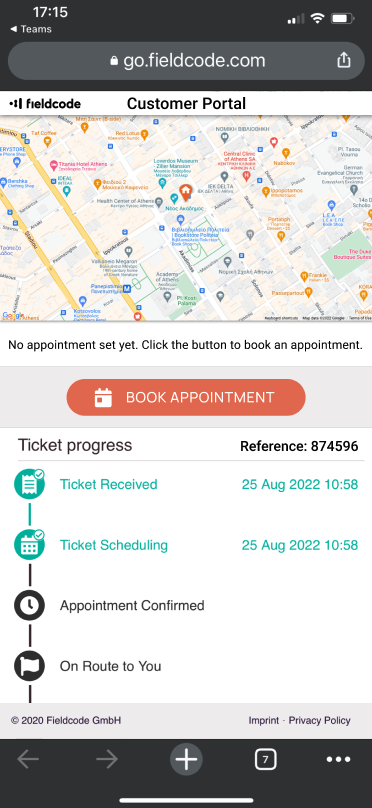 Ticket Progress Statuses
Copy the URL link to this section to share
| Ticket Progress Status | Explanation |
| --- | --- |
| Ticket Received | The ticket arrived inside Fieldcode Work Place. |
| Ticket Scheduling | The ticket has been scheduled by the dispatcher. |
| Ticket Dispatched | The ticket arrived on the engineer's device. |
| On Route to You | The engineer is currently driving to the customer location. |
| Arrived Onsite | The engineer arrived onsite and starts solving the the ticket. |
| Visit Completed | The engineer visit has been completed by the engineer. |
| Closed | The ticket has been closed. |
Was this topic helpful?
5 out of 5 stars
3 ratings
| | | |
| --- | --- | --- |
| 5 Stars | | 100% |
| 4 Stars | | 0% |
| 3 Stars | | 0% |
| 2 Stars | | 0% |
| 1 Stars | | 0% |