Welcome to the Fieldcode Manual
Type a term in the box to instantly list helpful topics. Category filters help to narrow down search results.
How to search & filter for tickets
Copy the URL link to this section to share
In which case will the daily engineer route be displayed?
The map will show engineers' routes after the engineer started working on them inside the Fieldcode Mobile App.
Before searching for tickets or engineers on the map you first have to set a date and your dispatch group.
This can be done inside the map component with expanded sidebar:
Click on the calendar and select a date from the drop-down to define for which day you want to see information on the map at a glance.
Click on the group drop-down selector and select the Dispatch group that you want to see on the map
Select appropriate ticket statuses in order to decide which tickets are displayed on the map.


For beginners: By default tickets in status APPOINTMENT, IN PROGRESS ONSITE, and PENDING WAIT ONSITE are preselected because those are usually the tickets a dispatcher wants to review on the Map.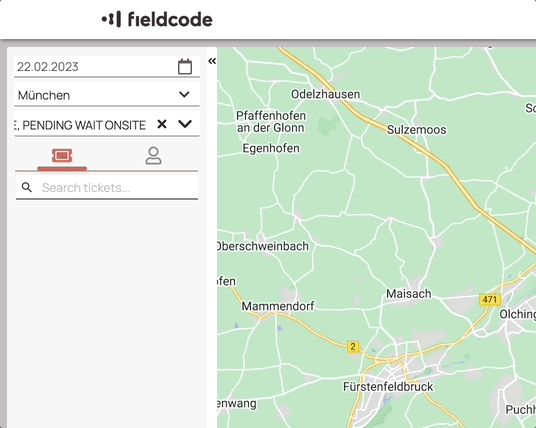 All tickets for the selected date should now appear in the finding tickets tab. If tickets are clustered they will be shown as numbers on the map.
The search inside the Map allows you to search for all possible search queries (eg. ID, telephone number, etc.).
Search for specific tickets by using the search glass or clicking on a ticket or ticket cluster.
Open the ticket cluster with the arrow to reveal the tickets inside the cluster.
You can quickly check the important details of a ticket at a glance or even interact with them if they are in the appropriate status.
The map will jump automatically to the selected ticket spot.