What is the Dispatch menu?
Copy the URL link to this section to share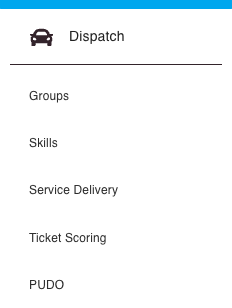 On the dispatch configuration tab, you can set options that affect ticket dispatch. In this menu, you create and edit the Dispatch groups you later want to use inside the Work Place, add and edit skills of engineers, add and edit PUDO locations, and set up the ticket scoring, which makes the Optimizer work more adjusted to your needs, and set up the Optimizer itself.
Expand the menu by clicking the expand arrow in the Navigation 
 OR click directly on the Dispatch symbol to reveal all options of Dispatch configuration.