What is the Access menu?
Copy the URL link to this section to share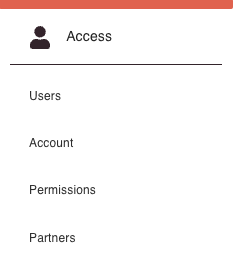 The Access menu lets you manage your users and the permissions users should have. Users can be persons, that deliver services to end users (eg. engineers) or dispatchers that do their work with the Fieldcode Work Place, or other persons that administrate. Permissions regulate what a user is actually allowed to do in the applications.
Expand the menu by clicking the expand arrow in the navigation 
 OR click directly on the Access symbol to reveal all options.