Welcome to the Fieldcode Manual
Type a term in the box to instantly list helpful topics. Category filters help to narrow down search results.
How to book appointments
Copy the URL link to this section to share
Let's assume you as the ticket requestor followed the tracking link and you see that the ticket is in status Ticket Scheduling.
In this case, you may want to book the appointment because the dispatcher may have not set the appointment yet.
1

Checking the ticket status and booking the appointment
2

What is the Customer Portal Availability Check?
The Customer Portal Availability Check inspects the following acceptance parameters to validate if there is a matching engineer available for the appointment for selected date/dates:
Engineer availability check and skill requirement check to find a matching engineer
Spare parts availability check to make sure engineer only goes on-site when all parts are available
If the system has made a suitable assumption, this is indicated by a green check.
3

Selecting the appointment from the calendar
Select your preferred appointment date in the calendar.
You will see the latest service delivery time for your ticket indicated with a clock (if there is a LSDT for the ticket) which may influence your decision for the booking date.
You will also notice that the system does the engineer availability check, while you are trying to select the appointment date.
Please be advised that the for the booking available booking slots don't include weekends by default and that the for the booking available booking slots are dependent on configured Customer Portal Settings. The behavior of the booking slots is usually configured by company admins.
Click on a date you want to book. 
4

Picking a date from the calendar
Click on your desired date, in our case the 3rd February. The expected date of technicians arrival will be displayed in the calendar after clicking.
The selected date will be framed.
5

Confirming that the appointment is binding
Confirm that the appointment is binding by checking the corresponding checkbox.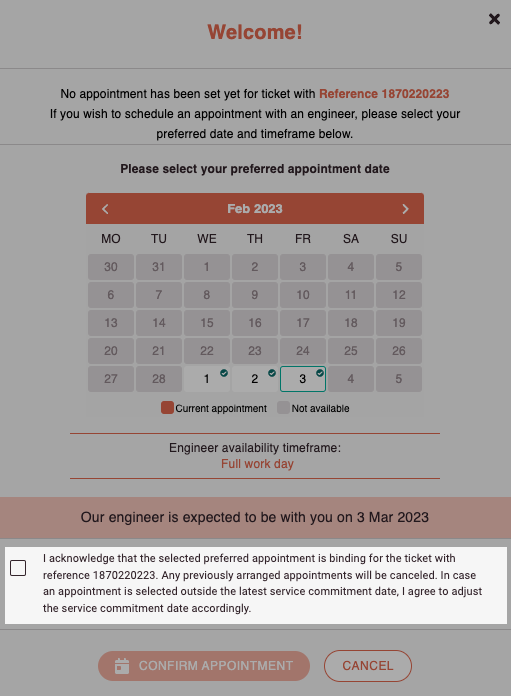 6

Finishing the appointment booking
Click on CONFIRM APPOINTMENT.
Your appointment is now booked.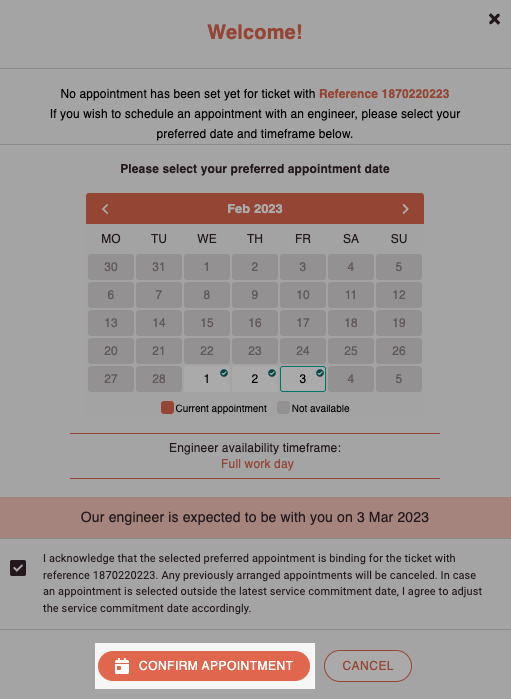 Was this article helpful?