Welcome to the Hemmersbach Manual
How to work with the Ticket Pool
Term / symbol
Explanation
Project color
The color is displayed in the Ticket Pool and in the calendar area. It can help to quickly identify the project, which the ticket belongs to. The color can be set per project and is configured by IT on request.
VIP / Escalation
If a ticket has a VIP flag or has been escalated, the respective symbol will be visible in the Ticket Pool
• Yellow star = VIP ticket
• Red bolt = Escalated ticket
• Red bolt with yellow dot = VIP & Escalation

Ticket criticality
In case of specific projects having dispatched deadlines or are considered critical after reaching a specific age, ticket or tickets are displayed here with danger symbol.
Category
Some of the tickets may have a category specified: Eg. PR for printer and PC for Personal Computer.
Ticket
It will include the project name and CNI number of the ticket. In case the project name is too long or it would help to see a common short name, IT can configure this on request per project.
Recall
If the ticket is a recall, the R symbol will appear next to the ticket ID. Recall indicates that the ticket was raised previously for the same device, with the same problem.
Customer
Displays the name of the customer / ticket requestor.
ZIP
Displays the ZIP code of the customer / ticket requestor.
City
Displays the city of the customer / ticket requestor.
Date
Displays the appointment time / LSDT time – the Ticket Pool shows an LSDT date and time or, if set, an appointment date and the time (the earliest appointment time or the latest LSDT hour).
Grab / Ungrab
Displays if somebody has grabbed the ticket, which indicates the corresponding person is working on the ticket.
• Grey symbol = Ticket has not be grabbed by anyone
• Orange symbol = Ticket has been grabbed by a colleague
• Black symbol = Ticket has been grabbed by you
In the Ticket Pool of MyDispatch you will see the list of tickets that require appointments to be scheduled:

The hold tab will contain tickets in other statuses, awaiting some action or suspended for some reason.
In hold tab you can find tickets in statuses like: Blokade, Blockade, Diagnose, OnHold, Suspend, OnHold_Parts, Pending Customer, Pending Enduser, Pending Parts, Pending Partner, Pending Yield, Parts Qualification, Clarification, Pending warehouse.
Tickets in these statuses cannot be assigned to the engineer, as for some reason they are awaiting additional action, before being scheduled.

A tool-tip with rich details like SLA is visible, when hovering over LSDT / Appointment date in Ticket Pool and Ticket Hold: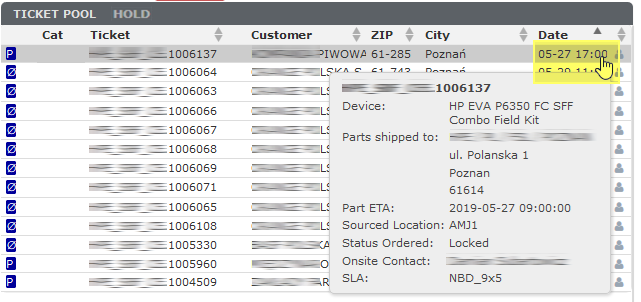 PARTS QUALIFICATION STATE is highlighted in the tool-tip and the state blinks in the Overview for a better differentiation. Be reminded that this is a special state.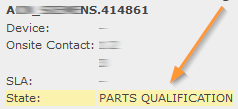 It is possible to search for tickets by typing in text or numbers in the filter field. The search will be made only for tickets in a selected dispatch group and the results will be showing up while typing.
If you decide to search for a ticket with a CNI number, then the search will cover the calendar area also.

You will find three different row colors in the Ticket Pool. They highlight, if a ticket is close to the LSDT or has even breached it:
Dark grey = in SLA, with appointment
Light grey = SLA ends on chosen date
White = SLA is in future
Additionally the letter color can be either black or red:
Red letters = Appointment or LSDT lays in the past
Black letters = Appointment or LSDT is on chosen date or in future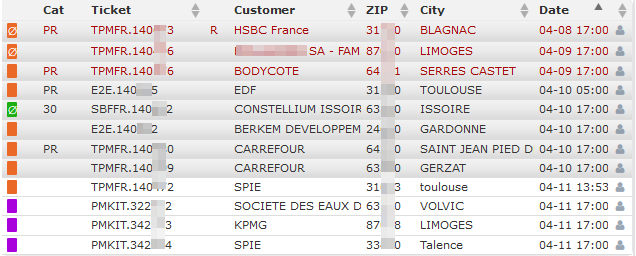 Tickets with short SLA are highlighted in red in the Ticket Pool. This works for tickets with SLA type: SBD_4H, 4BH, SBD_4H_9x5 and SBD_4H_24x7: