Welcome to the Hemmersbach Manual
How to interact with the Gepard header
The Gepard header allows you to configure system wide settings and check for system wide notifications.
How to check system notifications
In case of e.g. planned system outage, GEPARD users will be informed about it via a banner in the notification area. If you click on the message it will disappear, but it can be displayed again, by clicking on the warning triangle symbol.

How to check recent changes
You can see the history of versions and improvements after clicking the changelog arrow button on the right-hand side of the Gepard header. The number will indicate the amount of implemented features and fixed bugs. After clicking on the button the changelog will be displayed and the most recent changes will be additionally highlighted.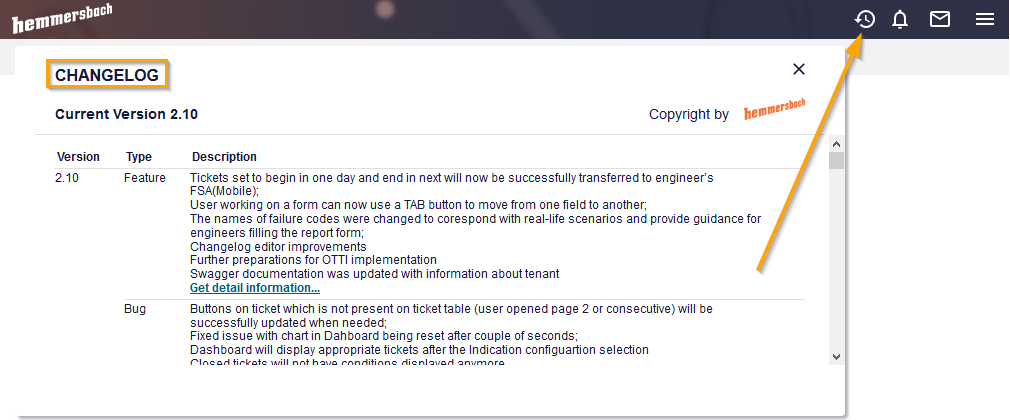 How to check personal notifications
Click on the bell button on the right-hand side, and you will be directed to your my subscriptions & my reminders tabs:

Under my subscriptions you will see the list of tickets that reached a status as specified in your subscription query (for subscription creation, please check out the My subscription topic).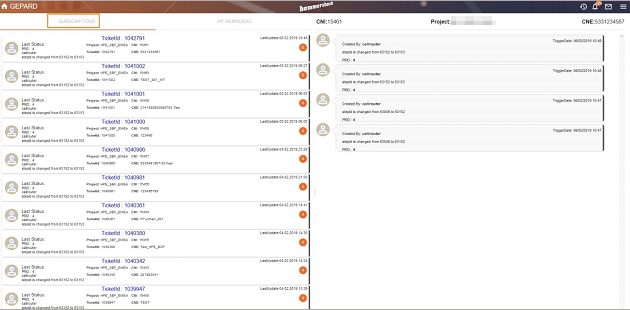 In my reminders section you will see the list of reminders for specific tickets on the left-hand side. Please check out the Ticket details topic to learn how to successfully set reminders.

How to check the internal mailbox
After clicking the envelope button on the right-hand side of the header you will be able to access your Gepard internal mailbox:

This option enables you to communicate with other Gepard users, without using the external tools.
To see the drop-down list with e-mail managing options, click on the three dots button.

Single messages can be replied to, forwarded to, deleted or marked as read:

It is possible to search for messages (using a simple search) or use the following criteria: author, subject and content:

While sending an internal message, a user name has to be used as a recipient: